Christliche Bildbetrachtung Archive
An interdisciplinary lecture serie in Berlin's Gemäldegalerie and the Bodmuseum, conducted by the Stiftung St. Matthäus, Kulturstiftung der Evangelischen Kirche Berlin-Brandenburg-schlesische Oberlausitz in cooperation with the Gemäldegalerie SMBerlin. The Christliche Bildbetrachtung is a monthly public viewing and engagement with one work of art – loosely selected in accordance to the Christian calendar. The result is an interdisciplinary dialog between an art historian, a theologian and the audience. Brigit Blass-Simmen is coordinator of the lectures (together with Pastor Christhard-Georg Neubert) and has been repeatedly speaker at these lectures.
http://www.stiftung-stmatthaeus.de/
programm/projektreihen/veranstaltung/
mit-christlicher-bildbetrachtung-durchs-kirchenjahr//
http://www.smb.museum/bildung-und-vermittlung/erwachsene.html
A selection of the Christliche Bildbetrachtung including artworks and speakers:
Donatello, Madonna Pazzi, um 1420 mit Prof. Dr. Rudolf Preimesberger, FU Berlin und Pfr. Dr. Herbert Gillessen, Katholische Kirche St. Bernhard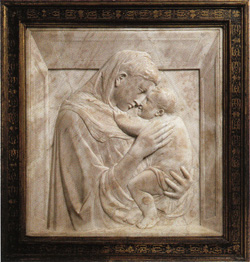 Donatello, Madonna Pazzi
Mark Rothko, Reds no. 5 / Giotto, Kreuzigung und Marientod, Dr. Stefan Weppelmann, Gemäldegalerie and Pfr. Manfred Richter, Berlin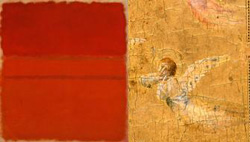 Andrea Vaccaro, Christ on the Cross, Hella Preimesberger and Pastor Claus Marcus, St. Peter und Paul auf Nikolskoe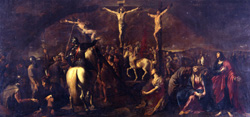 Pierre Puget, Ascension of the Virgin, Prof. Dr. Rudolf Preimesberger, Freie Universität Berlin and Pastor Dr. Herbert Gillessen, St. Bernhard, Berlin-Dahlem
Alvise Vivarini, Pentecost Altarpiece, Dr. Brigit Blass-Simmen and Bishop Prof. Dr. Wolfgang Huber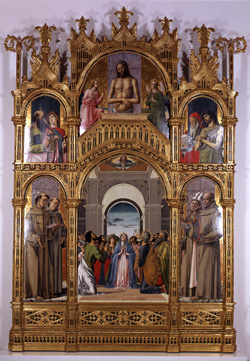 Andrea Mantegna, Die Darstellung Christi im Tempel, ca 1465/66 with Dr. Kristine Patz, Berlin and Pastor Christhard-Georg Neubert, Stiftung Sankt Matthäus

Jacob Claes van Utrecht, Tryptichon mit Kreuzabnahme, 1513 with Dr. Stephan Kemperdick, Gemäldegalerie and Hartmut Diekmann, Berlin
Dirck van Baburen (1590-/95-1624), Die Fusswaschung Christi with Dr. Candida Dreier, Berlin and Pastor Dr. Traugott Vogel, Stolpe
Hans Baldung Grien, Die Beweinung Christi, um 1516 with Dr. Gabriele Sprigath, LMU Munich and Prof. Dr. Olaf Schwencke, Präsident der UdK a.D.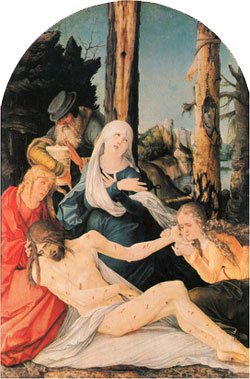 Hans Baldung Grien, The Lamentation

Giovanni Bellini, Der tote Christus, von zwei trauernden Engeln gestützt, um 1475/80 with Dr. Brigit Blass-Simmen, Berlin and Dr. Ulrich Schöntube, Direktor der Gossner Mission
Andreas Schlüter, The Pulpit of the Marienkirche with Prof. Dr. Bernd Lindemann, Gemäldegalerie and Pastor Gregor Hohberg, St. Marien Berlin-Mitte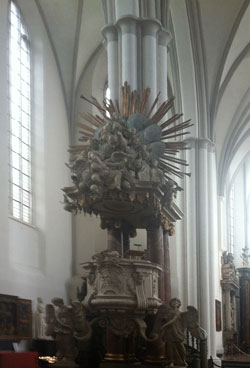 Andreas Schlüter, The Pulpit of the Marienkirche
Rembrandt, Jakob ringt mit dem Engel, 1659/60 with Prof. Dr. Nicola Suthor, FU Berlin and Revd Dr. Irene Ahrens, St. George's Anglican Church, Berlin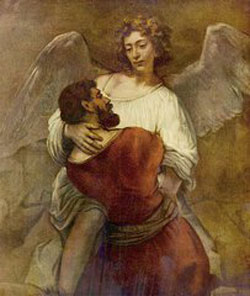 AVE – EVA: die Wiederentdeckung einer Renaissance Tafel von Guillaume de Marcillat with Prof. Dr. Alessandra Galizzi-Kroegel, Università degli Studi Trento and Pater Breulmann S.I. (= Societas Jesu)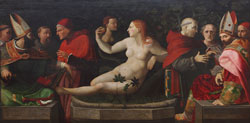 Peter Paul Rubens (Umkreis), Christus in Emmaus with Prof. Dr. Bernd Lindemann and Prof. Dr. Christoph Markschies, Humbold-Universität Berlin
Georges de la Tour (workshop copy), Die Auffindung des Heiligen Sebastian, um 1649 with Prof. Dr. Bernd Lindemann, Gemäldegalerie and Pastor Christhard-Georg Neubert, Direktor Stiftung St. Matthäus Berlin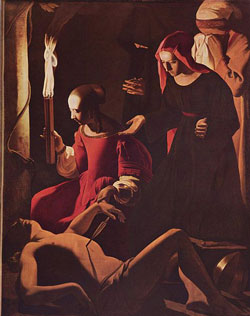 Hausbuchmeister, Das Abendmahl, Flügel eines Passionsaltars, um 1475/80 with Hella Preimesberger, Berlin and Pastor Hartmut Diekmann, Berlin
Giovanni Bellini, Die Beweinung Christi, um 1495 with Therese von Hesler, Berlin and Pastor Dr. Ulrich Schöntube, Gossner Mission Berlin
Jean Fouquet, Étienne Chevalier mit den Hl. Stephanus, 1454/56 with Dr. Anna Degler (FU Berlin) and Pastor Claus Marcus, St. Peter und Paul Nikolskoe
Rembrandt, Susanna und die beiden Alten, 1635-1647 with Dr. Katja Kleinert und Claudia Laurenze-Landsberg (both Gemäldegalerie) and Pastor Hartmut Diekmann, Berlin, Kulturforum, Vortragssaal Kunstgewerbemuseum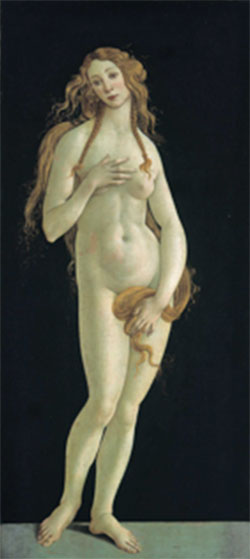 Die Botticelli- Renaissance mit Ruben Rebmann (Gemäldegalerie) und Prof. Dr. Christoph Markschies, HU Berlin
Rembrandt Harmensz van Rijn, Moses zerschmettert die Gesetzestafeln, 1659 with Dr. Maria Kreutzer-Bevers, Berlin and Prof. Dr. Olaf Schwencke, Präsident UdK a.D. Berlin
Jean Bellegambe, Jüngstes Gericht, c. 1520/25 with Prof. Dr. Magdalena Bushart, TU Berlin and Dr. Michael Weichenhahn, HU Berlin
Antonio Vivarini and Giovanni d'Alemagna, Die Anbetung der Könige, c. 1441-45 with Dr. Brigit Blass-Simmen, Berlin and Christhard-Georg Neubert, Stiftung St. Matthäus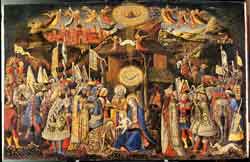 Antonio Vivarini und Giovanni d' Allemagna, Die Anbetung der Könige, um 1441-45
Pierre Puget, Modell für eine Kolossalstatue des Heiligen Alessandro Sauli, 1663/64 with Prof. Dr. Rudolf Preimesberger, Berlin and Pastor Christhard Neubert, Stiftung St. Matthäus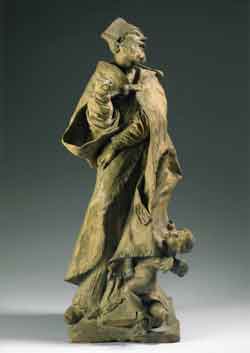 Kolossalstatue des Heiligen Alessandro Sauli, 1663/64
In the exposition Double Vision Albrecht Dürer – William Kentridge, Albrecht Dürer, Das Marienleben, Holzschnittfolge, 1510 with Prof. Dr. Hans Jürgen Scheuer, HU Berlin and Dr. Ulrich Schöntube, Direktor der Goßener Mission (Entrance fee)
Jacob Jordaens, Christus als Gärtner erscheint den drei Marien, um 1616 with Prof. Dr. Bernd Lindemann, Gemäldegalerie and with Dr. Dietrich Sagert, Institut für Predigtkultur, Wittenberg
Vittore Carpaccio, Die Grabbereitung Christi, c. 1505 with Dr. Brigit Blass-Simmen, Berlin and Pastor Christhard-Georg Neubert, Stiftung St. Matthäus
Paolo Caliari, Veronese, Der tote Christus, von zwei trauernden Engeln gestützt, before 1588 with Dr. Sabine Engel and Pastor Forian Wilcke, Berlin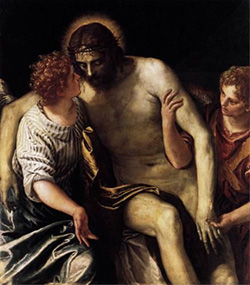 Img. Veronese, Der Tote Christus
Gerard van Honthorst, Die Befreiung Petri, 1616-1618 with Dr. Britta Dümpelmann, FU Berlin and Pastor Imke Schwarz, Hannover
Die drei Drucke der 95 Thesen Martin Luthers aus dem Jahr 1517 with Andreas Wittenberg, Staatbibliothek and Pastor. Dr. Bernd Krebs, EKBO Beauftragter für das Reformationsjubiläum und den Kirchentag 2017. In Kooperation with the Staatsbibliothek zu Berlin, Preußischer Kulturbesitz, Haus Potsdamerstraße 33 am Kulturforum, Meeting point: Dietrich-Bonhoeffer-Saal
Hans Baldung Grien, Die Kreuzigung Christi, 1512 with Dr. Gabriele Sprigath, LMU Munich and Prof. Dr. Olaf Schwencke, Berlin
Fra Filippo Lippi, Maria, das Kind verehrend (Die Anbetung im Walde), c. 1459 with Prof. Dr. Bernd Lindemann, former director of the Gemäldegalerie and the Bodemuseum and Pastor Ulrich Schöntube, Frohnau
Joachim Patenier, Ruhe auf der Flucht nach Ägypten, c. 1520 (Kirchentag in Berlin/ Ascension day)

In the exhibition Jean Fouquet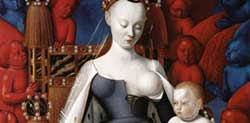 Jean Fouquet, Diptychon von Melun, rechter Flügel, um 1455
In the exhibition Jean Fouquet, Das Diptychon von Melun, um 1455 with Dr. Stephan Kemperdick, Gemäldegalerie Berlin and Pastor Hannes Langbein, Stiftung Sankt Matthäus
The Presbyterian Martinus' Madonna as "Sedes Sapientiae", Prof. Dr. Alexander Markschies, RWTH Aachen and Prof. Dr. Christoph Markschies, Humboldt University Berlin
Giovanni Bellini, Resurrection, Dr. Brigit Blass-Simmen and Dr. Wolfgang Vögele
Carlo Crivelli, Madonna and Child enthroned, with the Presentation of the Keys to Saint Peter, Dr. Philipp Zitzlsperger, Humboldt University Berlin and Pastor Stephan Frielinghaus, Ev. Kirchgemeinde in der Friedrichstadt
Jan Davidz de Heem, Still-life with Wine Jar, Prof. Dr. Bernd Lindemann, Gemäldegalerie and Pastor Stephan Frielinghaus, Ev. Kirchgemeinde in der Friedrichstadt
Lorenzo Lotto, Christ taking Leave of His Mother, Prof. Dr. Eberhard König, Freie Universität Berlin and Pastor Claus Marcus, Kirchgemeinde St. Peter und Paul auf Nikolskoe
Hans Multscher, Multscher Altarpiece, Prof. Dr. Wolf-Dieter Dube and Prof. Dr. Peter Welten, Humboldt University Berlin
Rembrandt, The Money Changer, Prof. Dr. Jan Kelch, Gemäldegalerie and Pastor Andreas Hildmann, Representative of the Protestant Church in Bavaria
Andrea Mantegna, The Presentation in the Temple, Prof. Dr. Klaus Krüger, Freie Universtät Berlin and Pastor Claus Marcus, St. Peter und Paul auf Nikolskoe
Religious paintings in the Palazzo Bianco, Genua, Dr. Roberto Contini, Gemäldegalerie and Dr. Ernst Pulsfort, Geistlicher Rektor der Katholischen Akademie, Berlin
Antonio Vivarini, Adoration of the Magi, Dr. Brigit Blass-Simmen and Pastor Christhard-Georg Neubert, Stiftung St. Matthäus
Master of the story of Joseph, Four tondi with the stories of Joseph of Egypt, Dr. Rainald Großhans †, Gemäldegalerie and Bishop Prof. Dr. Wolgang Huber
Death and the Transitory in early Italia painting (Giotto), Dr. Stephan Weppelmann, Gemäldegalerie and Pastor Claus Marcus, St. Peter und Paul auf Nikolskoe
Luca Giordano, St. Michael, Prof. Dr. Andreas Haus, Universität der Künste Berlin and Pastor Jörg Machel, Emmaus-Ölberg-Kirchgemeinde

www.stiftung-stmatthaeus.de/stiftung.htm
www.smb.museum