curriculum vitae
Brigit Blass-Simmen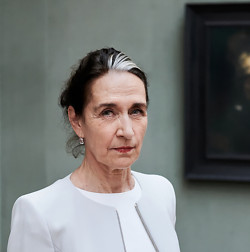 (Foto © Saskia Uppenkamp)
e-mail: bbs@blass-simmen.de
Citizenship: Swiss. Born in Zurich (Switzerland), living in Berlin (Germany)

Academic Degrees
1991 Dr. Phil. Art History – University of Zurich, Switzerland – Title: Sankt Georg: Drachenkampf in der Renaissance: Carpaccio – Raffael – Leonardo. Dissertation Supervisor Prof. Dr. Rudolf Preimesberger.
1984 Lic.phil. Art History, French Literature – University of Geneva and Zurich.
Area of Research
Italian Quattro- and Cinquecento visual representations
Current Research and Writing Projects
Vittore Carpaccio, Andrea Mantegna und Giovanni Bellini
The Council of Ferrara/Florence 1438/39, The Greek in Italy and Visual Representations
Matteo de' Pasti as Book Illuminator
Related Academic Work
2001-2019 – Co-founder and director, of the interdisciplinary lecture series "Christian Thematic in Paintings" in Berlin's Gemäldegalerie and Bodemuseum.
1992-1996 Curator of the "Corpus of Italian Drawings 1300-1450", founded by Bernhard Degenhart und Annegrit Schmitt, Staatliche Graphische Sammlung München.
https://www.khi.fi.it
1989-1992 Assistant Curator at the Staatliche Museen zu Berlin, the Neue Nationalgalerie, the Gemäldegalerie and the Kupferstichkabinett (Dept. of Prints and Drawings).
1983-1985 Assistant to the Editor, Swiss Institute of Art Research SIK-ISEA, Zurich.
Other Personal Information
1996 Birth of daughter Anna
1988 Marriage to Dr. Jeannot Simmen of Zürich
.......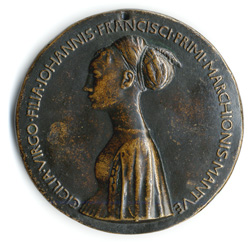 Pisanello, Cecilia Gonzaga, Medal, 1447.
Member of the board
2011 (ongoing)
Kaiser Friedrich Museumsverein KFMV
• co-chairman •
www.kaiser-friedrich-museumsverein.de
art historian and acquisition commission
Board of advisers
2012 (ongoing)
Stiftung Sammlung Dieter Scharf zur Erinnerung an Otto Gerstenberg
Sachverständigenausschuss für Kulturgut (Berlin)
2005 (ongoing)
Club Bel Etage
www.club-bel-etage.de
1999-2001
Waldorf-Kindergarten,
Berlin-Mansfelderstraße
Membership
ICOM Deutschland
The Renaissance Society of America (RSA)
Kunstgeschichtliche Gesellschaft zu Berlin
Kaiser Friedrich-Museums-Verein, Berlin
Lecture
2013/2014 FU-Berlin
Ü̈bung im Kupferstichkabinett: Italienische Zeichnungen der Renaissance,
Freie Universität Berlin
(with Ulrike Müller-Hofstede)
http://www.fu-berlin.de/Vorlesungsverzeichnis
2012/13 FU-Berlin
Venezianische und Florentiner Malerei der frühen Neuzeit, Übungen vor Originalen, Freie Universität Berlin (mit Ulrike Müller-Hofstede)